HOME > Products

If you have any question, Please contact us.

The followings are major categories of our Client.
Products
YC-910 mini extrusion spheronizator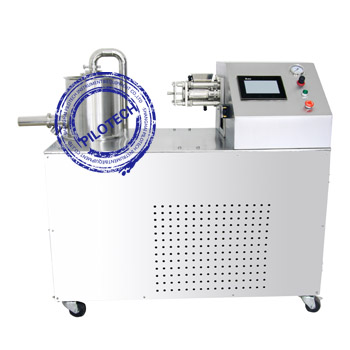 YC-910 mini extrusion spheronizator is a kind of spheronizator which is suitable for laboratory-scale condition and small-volume samples with a throughput of 1-3 kg / hr. Mini-extrusion spheronizator can also be equipped with a small-size sifter, to achieve a wider processing range and satisfy the needs of experimental and scientific research. YC-910 mini-extrusion spheronizator can fabricate blank pellets and pellets with fillings, which is regarded as the ideal equipment for pellet experimental study in the areas of pharmaceutical, food and other industries.
Working mechanism of Mini-extrusion spheronizator
Add the materials (drug, excipient powder with binder) into the extrusion tube. Materials are sent to the mesh by the rotation of feeding screw and extruded. After transferred to the mesh plate, materials are extruded into a columnar shape by mechanical extrusion. Materials move on a high speed centrifugal turntable. Short cylindrical particles, affected by centrifugation and friction, are gradually spheroidized in the environment of material surface replenishment solution, and then spherical particles with very high sphericity are produced. Finally, the excess water is dried by drying equipment and the required spherical particles are dried and coated at last.
In this process, the system equipped with ice water device can cool the feeding screw and material barrel to ensure that materials are not hot or invariant during the extrusion process, which is appropriate for heat-sensitive materials to extrude pellets rapidly and efficiently. By this method, the size of the particles is uniform and the particle size distribution is narrow and the drug content is uniform.
.Technical characteristics of Mini-extrusion spheronizator
1.Clean air passes the slit in the centrifugal turntable, so that materials have certain fluidization in the centrifugal spheronization process, which helps prevent pellet adhesion and results in better spherical shape of pellets and more uniform size distribution of particles;
2.The system is equipped with ice water device, which is suitable for heat-sensitive materials to extrude pellets efficiently and does not affect the activity of the materials;
3.e produced pellets have normal distribution of particle size, high strength, high density, high yield, good reproducibility between batches, high one-time pass rate and the ability to produce pills with high drug content;
4.Time of manufacturing particles is short (only 3 minutes for one batch of materials) and the yield is high (up to 95% or more basically) without screening;
5.Pellets extruded in wet state avoids dust flying and meets GMP requirements;
6.Produced pellets have good sphericity and fluidity and are more suitable for efficient coating and metering packing;
7.It is easy to achieve uniform mixing between incompatible active ingredients;
8.The equipment has integrated design, high degree of automation and is easy to operate;