HOME > Products

If you have any question, Please contact us.

The followings are major categories of our Client.
Products
Inert loop spray dryer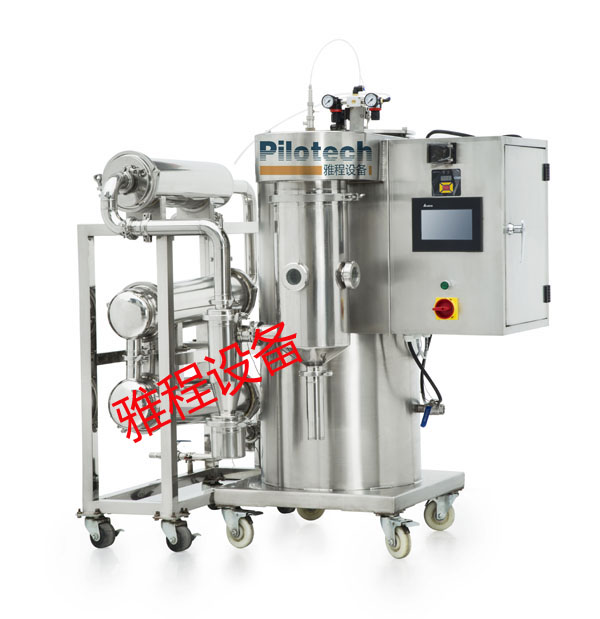 YC-015A Inert Loop spray dryer is our latest type which adopts advanced international technology and spare parts and can be used to process the samples of aqueous solutions and organic solvents.
It assembles many of new design, we fit an inert gas unit so they can be purged with nitrogen or other inert gas, to allow the spray drying of solvents.
All units feature a simple to use touch screen menu systemfor example, small shape for free moving, combining air compressor and electrical heater inside the cabinet.All the data and function are controlled by PLC, English language.
The self-priming peristaltic pump delivers the sample liquid from a container through a small diameter jet into the main chamber.At the same time an integral compressor pumps air into the outer tube of the jet which causes the liquid to emerge as a fine atomised spray into the drying chamber.
The Integrated fan, pumps heated nitrogen or air through the main chamber evaporating the liquid content of the atomised spray. The solid particles of the material, which are normally in a free flowing state, are then separated from the exhaust air flow by a cyclone and collected in the sample collection bottle. The exhaust airflow is directed through a flexible 50 mm diameter hose direct to atmosphere or to an existing extraction system.
Safe
Drying organic solvents safely with inert loop system
Explosion free Spray Drying due to inert gas atmosphere
The prevention of explosion due to oxygen and pressure control
Environmentally sustainable
Organic solvent recovery system with cooling circuit ,optional ) or tap water
Closed loop design approaching minimizes pollution and protecting the environment
Controls & Functionality
Both units are designed to ensure that all functions are simple to select and adjust, to quickly achieve the optimum conditions for spray drying. Both use a clear touch screen display which
is protected to IP65, the operator can control the following functions:
• Inlet Temperature
• Airflow Volume
• Pump Speed
• De-blocker Frequency
• Temperature Graph
Application range:
Spray drying can be used in a wide range of applications where
the production of a free-flowing powder sample is required.
This technique has successfully processed materials in the
following areas:
• Beverages • Flavours & Colourings
• Milk & Egg Products • Plant & Vegetable Extracts
• Pharmaceuticals • Heat Sensitive Materials
• Plastics • Polymers and Resins • Perfumes
• Ceramics & Advanced Materials
• Soaps & Detergents • Blood • Dyestuffs
• Foodstuffs • Adhesives • Oxides •Textiles
• Bones, Teeth & Tooth Amalgam and many others
Technical data:
| | |
| --- | --- |
| Application | Aqueous & Solvent |
| Atomiser type | Standard with 0.7mm,2 Channel, 316 stainless steel |
| Evaporation rate | 1500 ~ 2000 ml/h |
| Temp. range | 60°C ~ 250°C ±1% |
| Air Throughput | 15 ~ 50m³/hr |
| Compressor | 2m³/hr @ 2 bar - 1.7m³ @ 4 bar |
| Heater | 4KW |
| Chamber | SUS 304 stainless steel |
| Blower | VariableTtouch Screen Controlled |
| De-blocking Automatic | adjustable |
| Minimum sample volume | 30ml |
| Gas type | N2 or compressed air |
| Possible particle size range | 1-25µm |
| Mean Residence time | 1.0-1.5 sec |
| Dimensions | 1050*1000*1500 |
| Weight | 210KG |
| Power AC 220/240V 50/60Hz | 20A |
CHARACTERISTIC, , FONT>

1) Using for organic solvent materials difficulty in spray dry. General organic solvents are flammable and explosive, and antiexplosion closed laboratory spray dryer makes materials circulate in closed drying system and protect organic solvent gas from external oxygen and air, which guarantees safety production.

2) Using for oxidizable materials. This technology uses inoxidizability of inert gas,materials are dried and transported in closed antioxidative circulation system to avoid contact with oxygen, which guarantees quality and dry production of oxidizable material.

3) Using for poisonous gas pollution during raw material production. Some materials or solvents generate poisonous gas upon gasification, and inert gas closed circulatory laboratory spray dryer encloses poisonous gas generated in a closed system before collecting in the backend to reduce environmental pollution, which is beneficial to environmental protection.

4) Two modes of run: Automatic mode, and Eyemonitored mode for the purpose of easily controlling experimental process . PLC controller, LCD touch panel control fascia with flow path of system.

5) Two fluid atomizing structure, made of SUS 304(316 optional)Stainless steel. Easy operating.

6) To assure accurate temperature control and easy parameter adjusting, YC-015 applies PID.

7) The self-priming peristaltic pump delivers the sample liquid from a container through a small diameter jet into the main chamber to avoid secondary pollution.